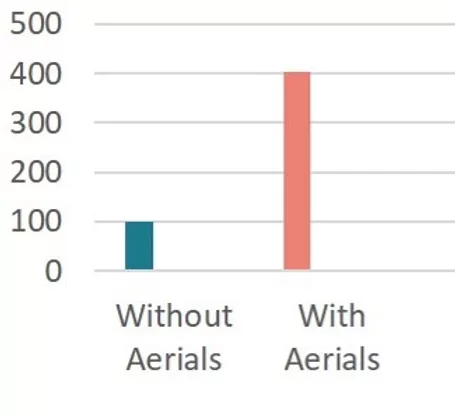 House listings that have aerial footage had a 403% increase of traffic compared to house listings without Aerial footage.
270% Return on investment
"That is a net increase of $23,000 per year ($31,500 minus $8,500) from deciding to incorporate drones, a return on investment of 270 percent."
A study from RIS Media found, when comparing the average cost of Drone services ($500 Per), to how much more money was made ($31,500), it had a 270% return on investment.
What do others think of drone photography?

"Whether that property is a home and yard, vacant land, or commercial or industrial location, drone images lend a whole new aspect, a different view to engage clients. Studies have shown that the majority of homebuyers begin their search online, and that homes with aerial images are nearly seventy percent more likely to sell."

"Zillow Premier Agents can use aerial real estate photography to show potential buyers a variety of details, including:
Encompassing aerial views of the entire property and land
The condition of the roof and other property features that can be difficult to assess
The neighborhood and surrounding area, including the home's proximity to amenities
Civic developments or local improvement districts that are supported by the buyer's property taxes
Property maps and surveys"

"If you have an amazing property, it's going to sell itself. Drone photography instead accents and strengthens the property. An elegant property is going to turn heads, but just like any marketing, a little extra shine might be what pushes that buyer to click the "Contact Us" button on your website. A professionally put together video is going to encourage sharing on social media, which is going to get your listing in front of more people quicker"